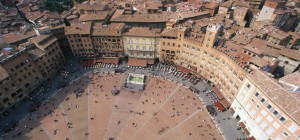 Siena needs no introduction.
This city is one of the most beloved tourist destinations in the world.
Hidden in the hilly area between the Elsa, Arbia and Merse river, Siena is, unbeknown to most, shadowed by the Chianti hills, famous for producing excellent wines.
The city itself was built by Roman hands and was a colony under the rule of Emperor Augustus.
During the Middle Ages, Siena experienced a period of intense development, became the diocese, and continued to grow until the mid-14th century, when it experienced the same slow decline the entire territory experienced and became part of the Grand Duchy of Tuscany.
THINGS YOU NEED TO SEE:
Recognised by UNESCO as a World Heritage Site, Siena continues to endear herself to enchanted visitors century after century. These are just some of her beautiful monuments and buildings:
-The Basilica of Santa Maria delle Nevi: Built on the ruins of a pre-existing church dedicated to San Clemente in 2134.
-The Basilica of the Observance: A religious building dating back to 1490.
-The Cathedral of Santa Maria Assunta: Siena's most beloved church, known centuries ago as the "Piano Sancte Mariae".
– The Palazzo Comunale, The red rooftop building that has come to define Siena, built in the first half of 14th century for the Government of the Nine.
-The Torre del Mangia: The bell tower that sits in the Piazza del Campo, and owes its name to its guardian, known as "Mangiaguadagni".